December 20, 2021
Celebrating the Holidays at Veris Insights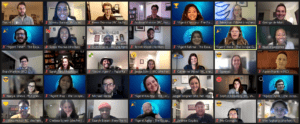 At the end of last week, our team gathered together for a happy hour to reflect on the past year and celebrate the holiday season. Team members shared their proudest and most unexpected moments of 2021 and what they're most grateful for at Veris Insights.
Then, for a fun twist on our weekly happy hour, we joined a group of agents from The Escape Game to work together to solve a mystery. It was the perfect way to relax and unwind.
We are beyond excited for the year ahead with our incredible team. Happy Holidays!