2022 University Recruiting Council Annual Members Meeting
Tuesday, December 6, 2022 - Wednesday, December 7, 2022
We're thrilled to be bringing together the most senior University Recruiting leaders in Veris Insights' University Recruiting Council later this year! This will be the first time since 2019 that we're able to gather this group in person. We can't wait to host you in Washington, DC! We look forward to collaborative discussions, presentations of our most impactful research findings, some DC fun, and more.
Venue: We will be hosting this year's meeting at the Park Hyatt Hotel in Washington, DC.
1201 24th St NW 
Washington, DC 20037
Schedule: Stay tuned for more details, but this will be the high-level schedule.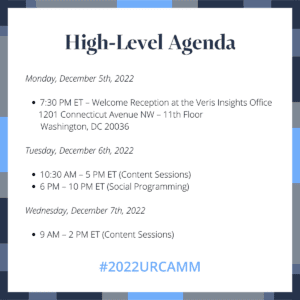 Travel & Lodging: We're excited that this event continues to be a part of the standard membership contribution. Members will be responsible for their individual travel and hotels (but we are holding hotel rooms at a great rate!), and once you're with us, all is included. The deadline for making hotel reservations is November 14, 2022.