August 05, 2021
Veris Insights Launches Monthly DEI Series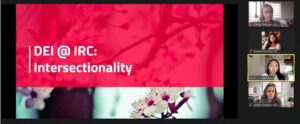 Last week, we launched DEI @ Veris Insights, an interactive workshop series run by Veris Insights associates. Every month, our associates will lead a session for the full team that will lay the foundation for discussion of critical topics related to diversity and inclusion.
Our first session was centered on intersectionality and its real-world implications. Presenters shared important context and learnings on the topic of intersectionality before we split into breakout groups to work through interactive exercises and discuss a case study that sparked action-oriented conversations.
Creating an inclusive, equitable workforce is one of the driving principles of our work at Veris Insights, and we are looking forward to holding space each month to reflect on DEI within our own team.