November 18, 2021
Veris Insights Discusses Ageism in the Workplace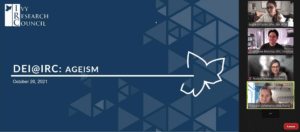 For our latest DEI @ Veris Insights session, Maggie Lohmann and Nadya Teneva brought our full team together to discuss ageism in the workplace.
Maggie and Nadya kicked off the session by prompting our team to define ageism in our own terms. They then led us through a series of interactive activities geared towards identifying ways that ageism can surface in our day-to-day lives and arming us with the tools to challenge ageist assumptions.
Thank you, Maggie and Nadya, for creating a space for such an important and thought-provoking conversation!