September 10, 2021
DEI @ Veris Insights Unpacks Professionalism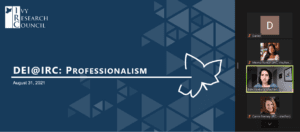 Last week, we brought our full team together for our second DEI @ Veris Insights session. These presentations are led by our associates and lay the foundation for discussion of critical topics related to diversity and inclusion.
Eda Incekara led our session on professionalism, walking us through the origins of professionalism through a DEI lens. We then split into breakout groups for a discussion of how professionalism norms are upheld in the workplace, and how we can challenge them.
Thank you, Eda, for sparking a thought-provoking conversation around what it means to be professional in 2021. We are looking forward to continuing this series and reflecting on DEI within our own community.