December 09, 2021
DEI @ Veris Insights Focuses on Privilege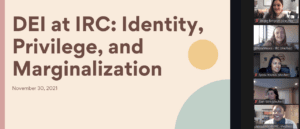 Last week, Jalesa Hood led us through a DEI @ Veris Insights session on identity, privilege, and marginalization. 
During the session, Jalesa facilitated an interactive activity focused on unpacking our own identities and identifying areas where we experience privilege and marginalization. She then shared ideas on how we can use our privilege for good to uplift and empower others, particularly in our work at Veris Insights.
Thank you, Jalesa, for providing us with actionable takeaways we can use to make our workplace more inclusive. As we conclude our DEI @ Veris Insights series for the year, we are beyond grateful for all of our colleagues involved in championing this initiative, and for the insights and authenticity our team has brought to each session.