September 28, 2023
Campus Recruitment Strategy: How to select the best campus representatives
Campus representatives are often students' first impression of an employer. A positive interaction can launch or strengthen interest in your programs, while a negative one can drive top candidates away.
To excel in recruiting at career fairs, diversity conferences, and other events, UR leaders need to:
• Plan carefully, identifying what roles members of the business line will play in recruiting

• Select the right individuals to represent the company at events

• Equip those individuals with the information and resources they need to succeed
Who you send to campus matters
Choosing who to send to campus can often be a more difficult task than it may seem at first glance. Should you send the most experienced business line leaders and executives to impress the students and put your most knowledgeable boots on the ground? Or should you send the new hires who are closest in age to the students and can perhaps more easily relate and build rapport?

Campus Representatives Roles and Responsibilities: Four Models
A "campus representative" may mean vastly different things to different UR teams. By clarifying your team members' specific roles and purposes can help them succeed on campus. There are four main models that successful campus representatives typically fall into:
• Team Captain: these individuals partner closely with UR & TA Leaders, help lead various virtual events, and leverage any existing contacts and relationships.
• Campus Executive: senior leaders who participate in various strategic virtual campus activities such as classroom presentations, advisory boards, panels, project sponsorships, and more.
• Campus Representative: employees who attend events and engage directly with students. Great potential reps include early talent employees, ERG members, HR employees, business leaders, and alumni.
• Interviewer: team members who are excellent assessors of talent and have functional expertise, knowledge, and experience. These are often business leaders who have management experience.
Depending on the size and structure of your organization, several (or all) of these models can complement each other to make a more streamlined experience for students and improve alignment of your campus teams.
Key Traits to look out for when selecting campus representatives
The role itself a team member serves is not enough to predict the success of an employee as a campus representative. Selecting individuals who embody these traits can ensure better outcomes from events and stronger student relationships.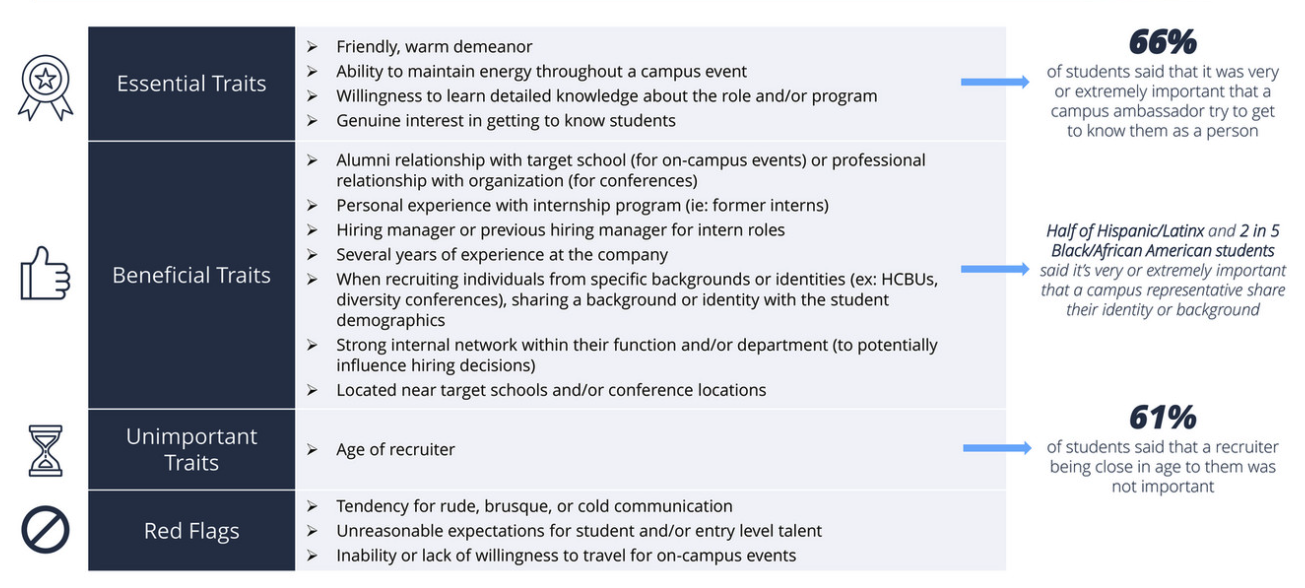 Once you've chosen the right people to represent your organization on campus, it's time to ensure they receive the proper training and support to excel in their role. 
Arm your campus reps with these quick tips for on-campus interactions.