July 19, 2022
Student Perceptions of Recruiting Timelines
There's an inherent tension between students and employers when it comes to recruiting timelines. The majority of students feel like timelines are too early, but employers do get a slight advantage by recruiting earlier. Several variables impact recruiting timelines – application timeframes, internship offers, communication patterns, industry trends, etc. We surveyed nearly 2,000 students regarding the 2021-2022 recruitment cycle and dug into their perceptions of the recruiting process.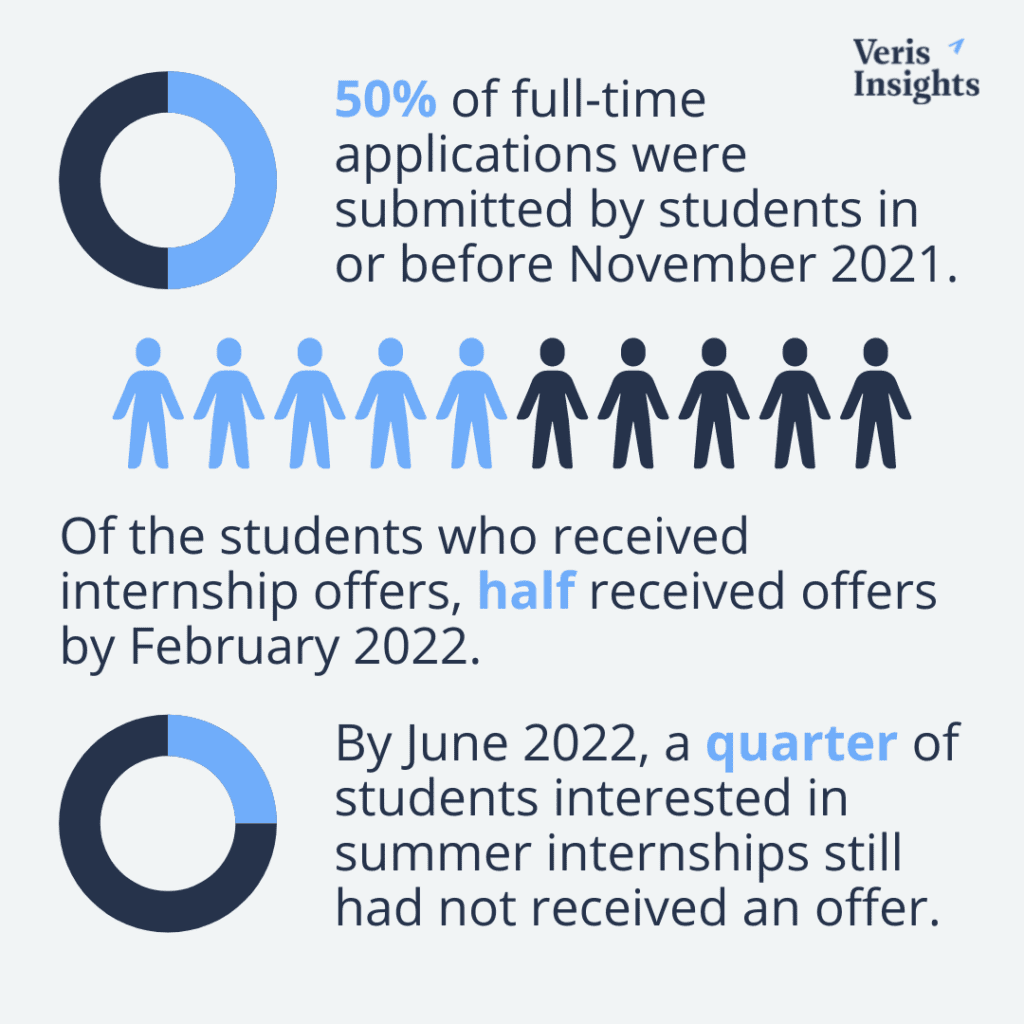 Timelines are Shifting
Some students shared feedback around how they would like for the recruiting process to be different. The most common feedback revolved around timelines feeling too early and the feelings of not being able to explore all job options.
54% of students feel that recruiting timelines are 'too early.' One student spoke to past trends, when students would be able to apply for internships as seniors and feel comfortable in securing a position.
"The consensus is that timelines are very early, to the point where you kind of question if you have full conviction in the career itself. I think it's very accelerated and doesn't give you that much time to think." – Finance Major, '22
The shift in timelines starting earlier and lasting longer has kept 1 in 2 students from exploring other job options. 
Timelines Differ by Industry
It is important to note that industry plays a key role here. Our research shows finance interns received the earliest offers. 74% of finance students had received their summer 2022 internship offers in January 2022. In comparison, only 28% of healthcare & pharmaceuticals students and 42% of consulting & research students had received their offers at this time of year.
"Mostly, I hear about timelines by hearing other people getting offer letters from companies. It is so very vague." – Computer Science Major, '23

"It would help if companies are upfront about their recruiting deadlines and timelines the spring before that upcoming recruiting cycle. I think having those dates in mind is helpful." – Aerospace and Defense Major, '23
A majority of students feel a heightened sense of competition and urgency in today's recruiting environment. With varying timelines and communication practices, it is important for companies to be clear and transparent to help students feel comfortable throughout the recruiting process.