November 14, 2023
What Students Want in Offer Packages
A company's offer package can be the deciding factor in whether students choose to work with you. Crafting a compelling package means understanding what students prioritize and building a narrative that feels personalized and attractive enough to stand out amongst competitive offers.
The Most Appealing Benefits
Our members often ask which benefits they should be spotlighting in their offer packages to have the best chances of converting their internships and full-time offers. We surveyed over 2,000 students to see which benefits are most attractive to students.
At a high level, students tend to prefer higher pay over increased PTO, autonomy, and remote work, but students are less likely to choose higher pay over career stability and working at a company whose mission aligns with their values. We do see some variation in tech and business talent, however, who are more likely to value pay over mission.
When asked how much offering various perks would increase the appeal of a company as a potential employer, four benefits reigned supreme: flexible work schedules, 4-day work weeks, free meals, and mentorship programs.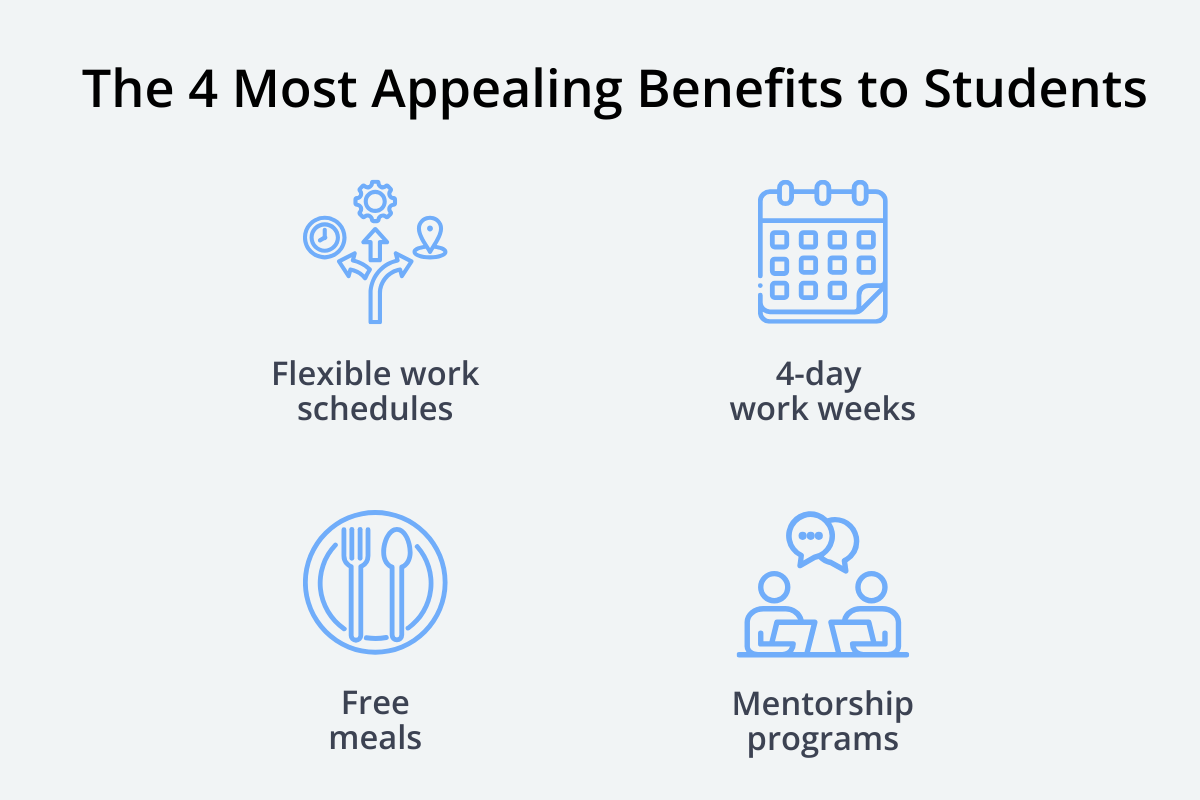 Understand Your Audience
The benefits students prioritize vary depending on if they're seeking an internship or a full-time role. These key insights can help personalize your offer packages.
Internship Offer Packages
Our most recent research reveals that while companies and candidates are fairly aligned on the benefits for full-time roles, with the most valued benefits being offered frequently, there are key areas in which internships are not offering the benefits most valued by students. 
When asked how important certain factors are in their likelihood to accept an internship offer, students report the following benefits as "extremely important":
• 75% – Base Salary of Wages

• 40% – Relocation/Moving Assistance

• 40% – Paid Time Off

• 38% – Housing Benefits
While PTO is highly valued, it is not offered as frequently as other highly-valued benefits. Although it was the second most important benefit to students, only 23% of accepted internship offer packages included PTO. This presents a key opportunity to programs who cannot increase compensation, allowing them to stand out.
Full-Time Hire Offer Packages
For students seeking full-time roles after graduation, their priorities are quite different, identifying these four factors as "extremely important" to their decision making process:
• 79% – Paid Time Off

• 77% – Healthcare Coverage

• 70% – Retirement Fund Support

• 56% – Dental Insurance
Salary Transparency
Several states have enacted legislation requiring pay transparency in job ads. Compliance with these laws is extremely important, but it can also improve student interest in your open roles and help your programs stand out. 
Students are learning about a role's compensation earlier in the interview process compared to last year, but there remains a discrepancy between when students want to learn about pay and when they actually learn about pay. 60% of students would prefer to learn about a role's compensation before applying, yet only 26% reported learning about compensation in the job ad or before applying. Companies who post the salary in the job ad are much more likely to be appealing to students. 
Learn how to respond to these laws and hook top talent from Dr. Andrew Monroe. 
Interestingly, students in 2023 report being less likely to negotiate their offer packages compared to last year. Of those who do, tech students are most likely to be successful, while women, Black/African American, and Hispanic/Latinx students are least likely to be successful. 
DEI Spotlight
Preferences and decision making factors for offer packages are not necessarily universal. For example, Black/African American students found many key benefits more important than peers with different identities or backgrounds. 
A greater percentage of Black/African American students rank these factors as "extremely important" compared to their Asian/Asian American, Hispanic/Latinx, and White/Caucasian peers:
• Family Leave

• Life Insurance

• Relocation Assistance

• Transportation Assistance

• Student Debt Assistance

• Scholarship/Tuition Reimbursement
Learn more about what Gen Z, the most racially and ethnically diverse generation in U.S. history, is looking for in offer packages.
Indeed, understanding what students want in offer packages is crucial for companies to attract top talent. By tailoring offer packages to suit the needs and desires of potential hires, companies can stand out amongst competitors and ensure they attract the best of the best.